Hockey IntelliGym® Success Stories
Tier 1 athlete Avery Cheeseman adds cognitive training to development routine
With her sights set on one day competing in the Olympics with Team USA, eighth-grader Avery Cheeseman has high hockey aspirations – and she's putting the work in, on and off the ice, to get there.
Avery, who plays on her high school team at Holy Angels and in a Tier 1 league for Minnesota Hockey, has a regimen that includes gym workouts, alternating arm and leg day, and stickhandling practice on top of regular practices and games.
"I try to put in the work," she says.
On top of her physical training, since August, Avery has been working on an element that is sometimes overlooked – her mental game. Using Hockey IntelliGym, which is ideally used two times a week through 30-minute computer training sessions, she's well on her way.
"I like it a lot, it's really helped me kind of get a feel of the whole ice not just where you are on the ice, you start to develop eyes behind your back," she says of results from the program.  "You're able to find more players, connect with other players without throwing the puck which has helped me a lot to gain confidence in making plays."
She usually uses the program on the computer at home, while listening to calming music. She saw on-ice results about three weeks, or six sessions, after beginning IntelliGym.
"I've been able to set up more plays in the corner, once I get a puck I'll know what to do, and I won't freeze up so much," she says.
Her first year with the high school team has seen her transition from defence to forward.
"I've never played forward before in my life and I have actually done a pretty good job because of this program," she says, adding that the program is constantly changing to keep her on her toes. "It kind of randomly will put you out of position to play and will shuffle the game when you get a goal scored on you or when you score a goal, and I like that because it taught me how to play offence."
Avery's father, Mike Cheeseman, who is a previous association president and level four certified coach, had heard about IntelliGym before, but decided to take the opportunity to use it this summer with his daughter through Minnesota Hockey.
Avery, he says, loves hockey but had some challenges translating her skill set into games.
"The product [IntelliGym] has been really helpful in translating that for her; when to apply certain things in the game, maintain more puck possession, be willing to defer the puck less often when the game doesn't call for it," he says. "Her game has really blossomed nicely."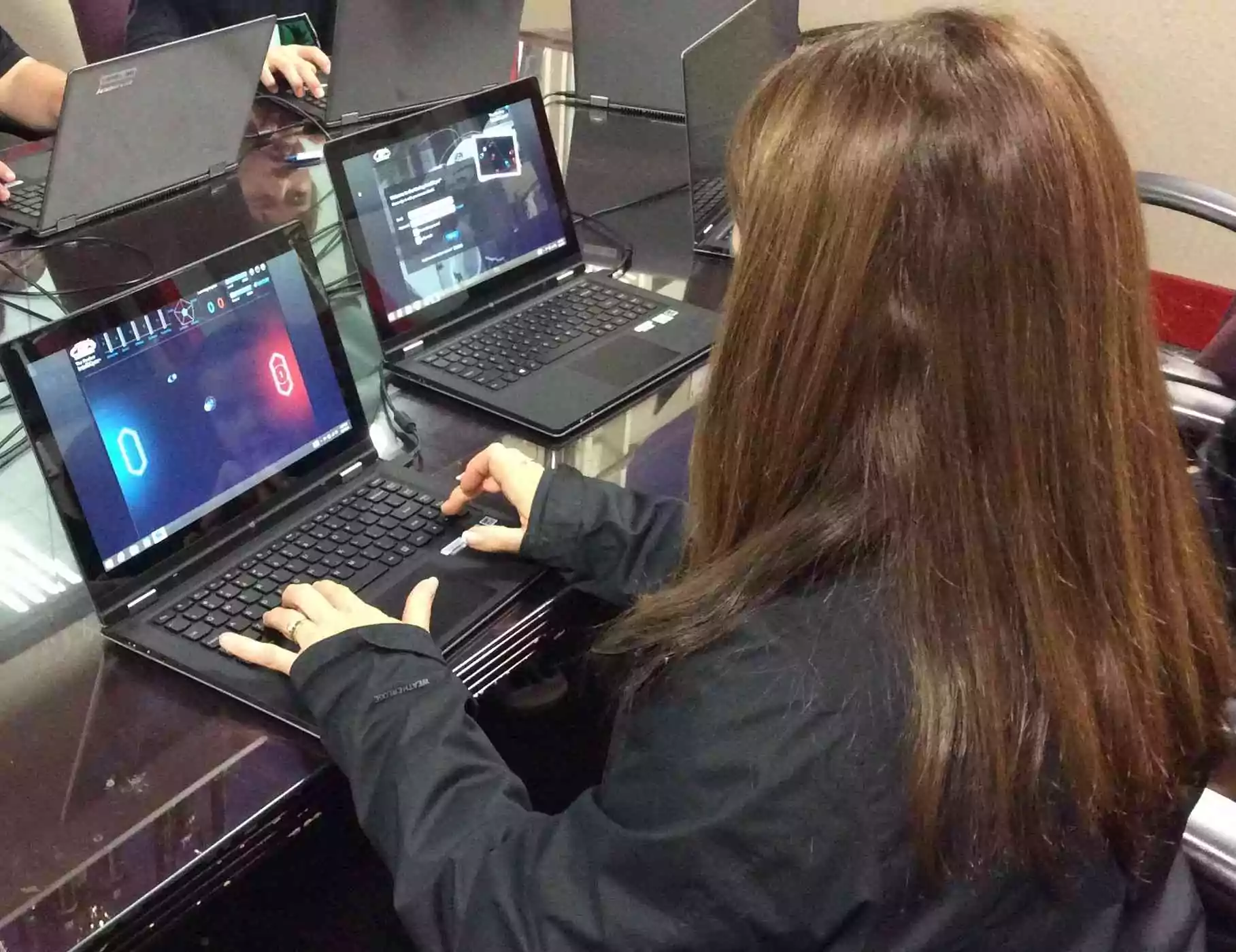 He describes the changes he's seen in her game as a positive feedback circle.
"From my perspective, I think it's helped her game and by helping her game it's improved her confidence and by improving her confidence, it's made her want to do more," he says.
He agrees the program has helped Avery's transition from defence to centre – a position she had previously only played five or six times. Intelligym has also been shown to reduce head injuries.
As a father, Mike sees the importance in deferring head injuries.
"Bottom line, anything that can help you play heads up hockey, be that skill development, be that off-ice stickhandling, be that confidence, be that better able to read the play and anticipate and see when potentially dangerous situations come up, is important," he says.
Hockey IntelliGym was first created by cognitive psychologists, computer engineers, and game theorists to help military fighter pilots develop precise instincts. It was then adapted for hockey via a collaboration between USA Hockey and the original team of scientists and researchers.
Hockey IntelliGym is currently used by over 30,000 hockey players aged 10 to 25. If a player trains twice a week, results show up on ice after about 6 to 8 weeks. With consistent use, the Hockey Intelligym may just be what a player needs to round out their hockey IQ.